Glen Nevis footbridge installed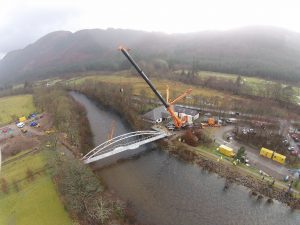 A NEW bridge which will give access to walkers and tourists, including those with restricted mobility, to one of the most famous mountains in Scotland has been constructed by the team at AJ Engineering and installed with support from the team at NEWCo.
The 139 foot long bow arced pedestrian bridge was fabricated by NEWCo's sister company AJ Engineering and was installed last week over the River Nevis giving access to Ben Nevis, with support from the Fort-William based NEWCo team.
The bridge was so big that it had to be driven down to Fort William from the Forres depot in several sections and was bolted together on site.
Gary Moir, AJ Engineering's project manager for the bridge said: "We were contracted by Fion Construction of Fort William to manufacture and install the 139ft long bridge. The whole thing was manufactured in Forres and transported to the site at the Glen Nevis Visitor Centre.
"It was an amazing project to work. The big steel arches involved some precision movement to ensure they were formed correctly. It was also a challenge to transport it. It had to be done in sections but even then, some of the pieces were 25 metres long. The road to Fort William is not easy so we had police escorts as well.
"However, everything on the project has gone really well. It is the first bridge that I have had full control over and I am really pleased with how it went. Global Port Services provided us with the 42 metre, 750 tonne crane that was needed to put the bridge in to place and everything went to plan on the day."
In 2015, AJ Engineering which employs around 70 people at its Forres premises expanded its business operation after buying Fort William-based Northern Engineering & Welding Co (NEWCo).
Gary explained this made the Ben Nevis bridge project much easier to work on.
"The River Nevis bridge is a community project for Fort William to give both locals and tourists easier access to the mountain. To be able to involve our team at NEWCo who came on site meant that for us, there was even more of a community aspect."