Platforms help maintain new hydro scheme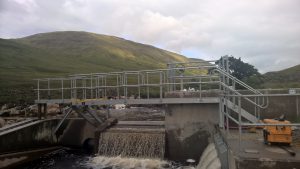 PLATFORMS to maintain intakes on a new hydro scheme on the Fassfearn Estate are now complete thanks to the team at NEWCo.
The team fabricated, supplied and installed the maintenance platforms for the client using their agent's designs.
The two intakes were fabricated last year, but bad weather conditions meant the installation had to be postponed as project manager Alan Stewart explained: "Unfortunately it's just one of those things, but we have to respect the weather conditions. Both intake one and two were fabricated last year and we did start to install in December, however the works had to be abandoned due to snow and lack of access."
However, the project which involved six operatives to fabricate, deliver and install and was finalised by project manager William Lawrie is now complete."
Alan added: "The walkways were requested after the intakes were installed to allow the estate to safely access the intake screens to clean any debris and adjust valves. Platforms were based on our client's design although using our expertise, we modified these to make the platforms easier to fabricate and install.