Access bridge and pipe bridge works complete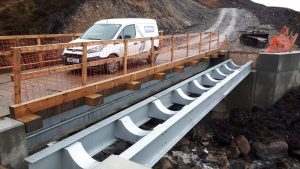 A NEW access bridge and pipe bridge for a hydro scheme at Caorach has been completed by the team at NEWCo.
The work was carried out for Hydroplan who have been a long-standing customer of NEWCo. The NEWCo team has worked on many of Hydroplan's schemes through the Highlands.
Project manager, Alan Stewart said: "As always we worked to meet Hydroplan's exact programme timetable to allow their main contractor DA MacDonald to install the access bridges to allow the works on site to carry on without issue. On this occasion the customer supplied the fabrication and design details and our in-house profiling paid dividends in allowing us to efficiently make all the pipe saddles."