NEWCo and AJE embark on charity cycle for 20th year in business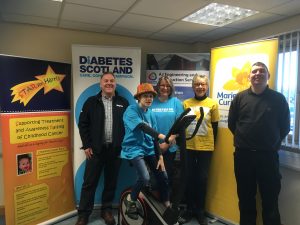 AJ Engineering and NEWCo's fundraising 'cycle' for three charities as part of its 20th year celebrations in now underway.
The company has nominated Diabetes Scotland (Moray branch), Marie Curie Moray and Fort William-based STAR for Harris as its charities for 2019.
A series of events are planned to mark the milestone year but the main fundraising will take the form of a virtual bike ride covering 21,000 miles, the same distance travelled completing jobs in one year.
Participation
All staff at the firm are being encouraged to take part in the challenge and they were joined by representatives from the three charities to kick start the event.
Ros Lewis from Marie Curie said: "Marie Curie's Fundraising Group in Moray is honoured and delighted that AJ Engineering will be supporting Marie Curie with its fundraising activities throughout their 20th Anniversary celebrations.  Our Marie Curie nurses do a wonderful job caring for the terminally ill in their own homes, at the same time providing support for their families. We shall all be cheering on the many AJ Engineering members of staff who have volunteered to take part in the challenge."
Diabetes Scotland was chosen as MD Alan James is diabetic which was discovered when he attended a medical on setting up the company exactly 20 years ago.  Forres mother and son Julie and Rowan Doel enjoyed visiting AJE to see the set up. Ten-year-old Rowan was diagnosed with diabetes when he was two-years-old and his older brother Jamie (16) has had it for five years.
Appreciation
Dave Duff chairman of the Moray Diabetes UK Group said: "On behalf our group, I thank AJ Engineering so much for considering the group. Regular income from donations is essential for us to continue our activities. Diabetes is a serious condition which affects over 5,000 people in Moray alone, almost 30,000 in the Grampian NHS area. By raising awareness of the condition and by actively campaigning for better services we hope to reduce the risks of developing these complications."
STAR for Harris was chosen as the company's third charity due to its close connection with its sister company NEWCo based in Fort William.
NEWCo
NEWCo's managing director Neil Worsdall is a friend of the family who set up the charity in memory of their son Harris who passed away at just 15-months-old after a battle with a cancerous brain tumour.
Harris' mum Tanya Ross said: "We are so incredibly grateful to NEWCo and AJ Engineering for choosing STAR for Harris. The ideas they have for supporting STAR for Harris and two other charities sound fabulous and we can't wait to be part of that journey with them. This year, we are donating further money towards research into childhood brain tumours whilst continuing to fund music therapy programmes, gift sets and ward resources for oncology families. Each of these initiatives makes such a huge difference to children going through such stressful and gruelling treatment and we couldn't do as much as we do, without wonderfully kind people like those at NEWCo and AJ Engineering."