NEWCo strongman's charity event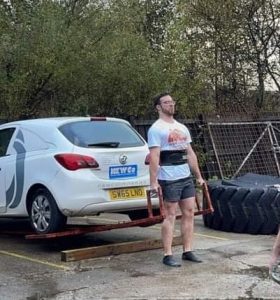 A NEWCo welder and award-winning strongman has raised money for two Lochaber charities in an event which was supported by the company.
Over £600 was raised at the Iron Therapy competition for novice strongmen and the money will now be split equally between Lochaber MindFit and Lochaber Hope.
The event was supported by NEWCo who made a financial donation but also gave a vehicle for competitors to lift by its rear wheels to hold for as long as they could.
Stuart who has competed in the World Championships said he was pleased with how the event went: "It was really good and I am pleased that we have been able to raise some money for two mental health charities. I chose mental health charities this year due to the Covid pandemic, as I felt that was appropriate.
"I have been organising this event for about eight years and NEWCo has been involved for the last three. It's great to get support from NEWCo and other businesses as it means we are able to donate more money to worthy causes."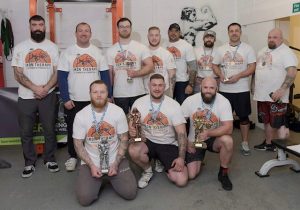 He added: "I decided to create an event for novices as there really aren't many around. It means that guys that are new to the sport end up having to go in at national level, which is what I had to do and that can be tough. Having a novice competition is a good introduction to the sport. I am already thinking ahead to next year's competition where we hope we will be able to invite more spectators along which will add to the atmosphere and also help raise more money for charity.
Neil Worsdall, general manager of NEWCo said: "The company was delighted to support Stuart for the third year running. It's a great event and always raises money for local causes."