New staff to meet industry demands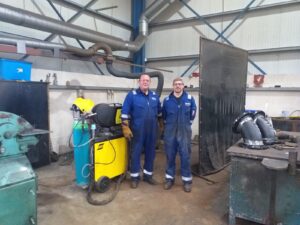 TWO new members of staff have joined the team at NEWCo to help meet the demands of the busy workshop.
NEWCo are suppliers to a wide range of engineering-based industries both in large scale industrial and private sectors.
And since lockdown restrictions were eased, the workshop has never been busier.
General manager Neil Worsdall explained: "There is a lot of tonnage leaving the workshop to go out to the galvanisers. Since lockdown, we have been very busy particularly in the workshop and to meet this demand we have taken on two fabricator welders. They are a welcome addition to team and have hit the ground running.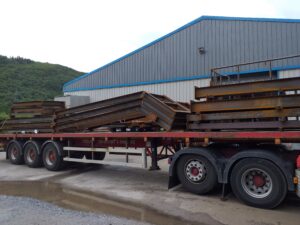 He added: "The works have been varied, but recently we have made the frames and done the cladding for three large sheep sheds for Satran Common Grazing Company and we have done the steel and cladding for a structure on the Isle of Skye. There have also been a lot of access stairs and platforms going out as well.
"It is great to be back and to have the full team in and to be able to assist our existing customers and the many new ones that have also come on board."
NEWCo has a purpose built and well-equipped workshop which is home to a team of skilled technicians whose services are facilitated in the in-house machine shop fitted with the leading state of the art machinery.
There is also a production facility encompassing welding (Mig, Tig, MMA), rolling, shearing, punching, bending and plasma profiling facilities and a machine section which includes lathes, milling, slotting and sawing facilities, all of which can be supported by the firm's in-house CAD drawing facilities.