Platform access sweeps the region
Over the last year, the team at NEWCo have designed, fabricated and installed around 10 access platforms to different clients across the Highland and Islands.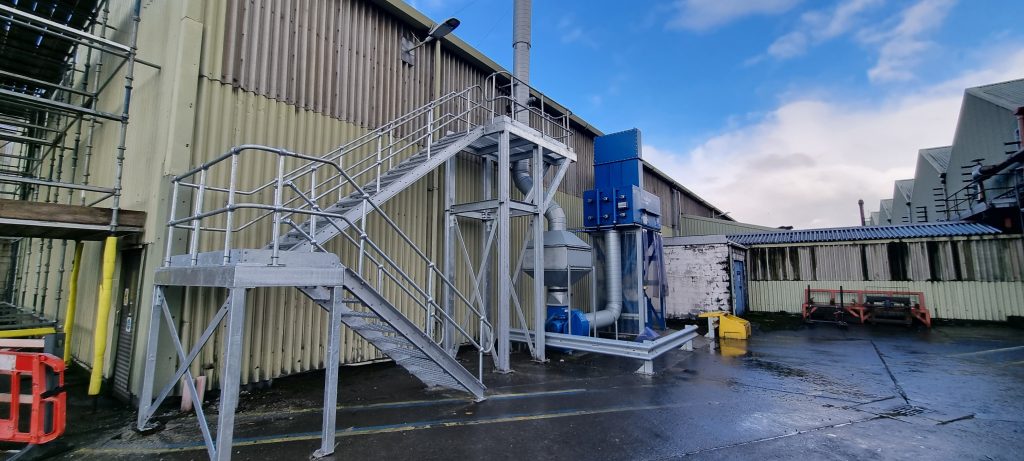 One such project was at Alvance British Aluminium in Fort William, near to NEWCo's HQ which was competed at the end of last month.
Two access platforms of similar design were required to allow the Scottish Environment Protection Agency to access sampling ports so they can carry out safe testing of fumes that are emitted from the plant.
Neil Worsdall, general manager of NEWCo said: "In the last 12 months we have carried out around 10 similar contracts to various clients around the region. The contracts have included all design certification, fabrication drawings, fabrication and installation, all to Execution Class 2 under our UKCA certification."
Working on the Alvance project was Willie Lawrie who said: "SEPA require access to the sampling ports every six months to carry out testing to ensure that Alvance is adhering to all the legislation.
"Everything was handled by the team at NEWCo and the projects were completed on time for the customer."
Alvance is the UK's last aluminium smelter and one of Fort William's largest employers.
Its smelting facilities are driven by hydro-electric power and a complex of on-site bio-diesel units. This combination of renewable energy sources makes the site one of the greenest metal production plants in the UK.
ALVANCE British Aluminium serves the national and international market with semi-finished aluminium, and its vision is to add value through the development of downstream manufacturing based on the liquid aluminium produced on site.