Island museum up for award
The Scapa Flow Museum at Lyness which underwent a £4.4million refurbishment involving teams from both AJE and sister company NEWCo, has been announced as a finalist by The Art Fund for this year's Museum of the Year award.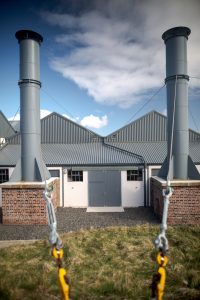 It has been shortlisted along with The Burrell Collection (Glasgow), Leighton House (London), The MAC (Belfast), and the Natural History Museum (London).
The winning museum will be announced at the British Museum in London on 12 July and will receive £120,000.
Staff from AJE and NEWCo worked on the project which involved the enhancement of interpretation and displays, the creation of a building to be used as an exhibition space, café, toilet facilities and information areas.
The team also worked on the restoration of the existing pumphouse and boiler house and the NEWCo team had to repair and make a replica of two steel chimneys which were historically significant to the project.
Orkney Islands Council secured a grant of £1.155 million from The Heritage Lottery Fund for the project.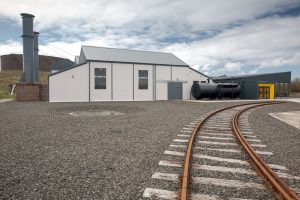 Scapa Flow served as a sheltered harbour for British ships during war, with some 12,000 people once stationed off the Orkney isle. Lyness became the naval headquarters in Orkney during 1919 before works were undertaken to further enlarge the base in the 1930s.
New additions to the museum include a Virtual Reality display, and renewed audio visuals which have been developed to tell the history of Scapa Flow and its modern-day role in Orkney.
The building was shortlisted in The Galvanizers Association Galvanizing Awards (GAGA Construction Awards). It was put forward for the award by LDN Architects who worked on the museum and the award looks to recognise innovation in the use of hot dip galvanising.
Galvanised steel was used extensively in the museum's extension and restoration, including its new climate-controlled space. It has also been utilised in the A-listed pumphouse, chosen for both its aesthetics, and the practical benefits of the material in Orkney's challenging climate and location.
Art Fund director Jenny Waldman said: "The five Art Fund Museum of the Year 2023 finalists are at the top of their game, offering inspirational collections and programmes for their communities, for visitors from across the UK and around the world. From transformational redevelopment to community involvement to addressing the major issues of today, the shortlisted museums may operate at very different scales, but all show astonishing ambition and boundless creativity. Each is a blueprint for future innovation in museums."